Everything you need to create and build your Purposeful Business
in 12 weeks! 
Let me guess…..
You are a busy heart led entrepreneur who doesn't have time to waste.

You've downloaded all the freebies imaginable from every resource you can find. Yet haven't found time to read or implement any of it.

You're called to start your business or have been in Business for a while and are called to refresh or start over and you're struggling to keep on top of everything.

You're procrastinating because of the tech side of getting things done (sigh, I hear you)

You know if you automate, establish systems, create a solid structure you'd feel slightly more organised – but you haven't found the time, or place to start.

And the idea of selling, pricing and managing the money leaves you cold (cue the shivers…)

You started this adventure to create freedom, to serve and help others. Yet now you feel that you can't even help yourself….

well worry no more – I have got you!
I understand, I have been exactly where you are.
That's why I created this program, designed to bring you from overwhelm or burn out, back into alignment within 12 weeks or less.
And have you and your Business out there creating impact and influence, so you are living the dream.
This is your one stop shop for a Business Program that gets you fast, effective and authentic results!
But don't take it from me – listen to what some of those in the group are saying….
My wins from Alison's Conscious Business Accelerator so far are;
Successfully rebrand my business to MY authentic message & souls core essence truth
Get over the fear of being seen and heard which has caused a new level of connection in terms of soul client magnetization
Run my business like an actual business, not just a hobby
Structure my business and have a better understanding of what I need to be doing inside my business to keep it running smoothly
Scaling to new tangible earning levels
Signing on premium clients with ease
Whole new level of confidence and direction
Get laser focused on WHO I am here to make an impact on
And so much more, and that's just in FOUR WEEKS! Not to mention the total soul joy and happiness I feel from all I have achieved and also from knowing I have an amazing mentor like Alison to create the catalyst I SO needed inside my business. Lot's to celebrate <3 xo
So much to celebrate!!! ❤😁❤
Shifting from fear-driven mode to soul-powered mode in my life & my work
Expanding my community, including starting a whole new group to do land healing 
Understanding my business structure & joining the dots between my services
Understanding myself from the soul out
Learn to celebrate out loud & share my successes and joys (or I wouldn't be writing this!)
Seeing the flow-on effects of all this with my clients – my transformation is helping power theirs 

😁

😁

😁

 I love this!!!!
Having dreams & ideas that are bigger than anything I've dared imagine in the past… (Watch this space 

😜

)
And getting to hang out with an awesomely inspiring bunch of souls who totally work their talk 

❤

😘

❤
… And we're not even half way through!!! Thank you so much, Alison Callan ❤❤❤
The Conscious Creation Business Accelerator is an intimate group coaching program combined with a self study component, designed to get you real results fast and authentically, through a multitude of mediums.
It literally has everything you need to guide you back from confusion, overwhelm, burn out, frustration, procrastination (all the things!) towards soul tingling joy, clarity, focus, abundance and results!  
Your Business will no longer feel like a hobby. Your presentation, purpose, mindset and expectations get a gentle but certain uplevel!
Through the unique P.O.R.T.A.L framework you will…. 
Consciously create a unique, sustainable business that you love and lasts! (without the overwhelm, procrastination & self doubt!)
In this intimate group container, emerging and established entrepreneurs exactly like you get to consciously create their purposeful soul business with rock solid foundations, that they love and lasts, without the overwhelm procrastination or self doubt.
I will guide you through my P.O.R.T.A.L framework, which has you reconnect with your Purpose to achieve a solid business concept, Opportunity to have you master your mindset, Recalibrate your offers and brand them beautifully understanding your soul clients, then Transition to build out a well considered business structure, creating your signature offer then learn to Articulate your message and communicate confidently, which combines for you to Lead in your business as the CEO you are and take your clients on a wonderful experience through sales and premium service.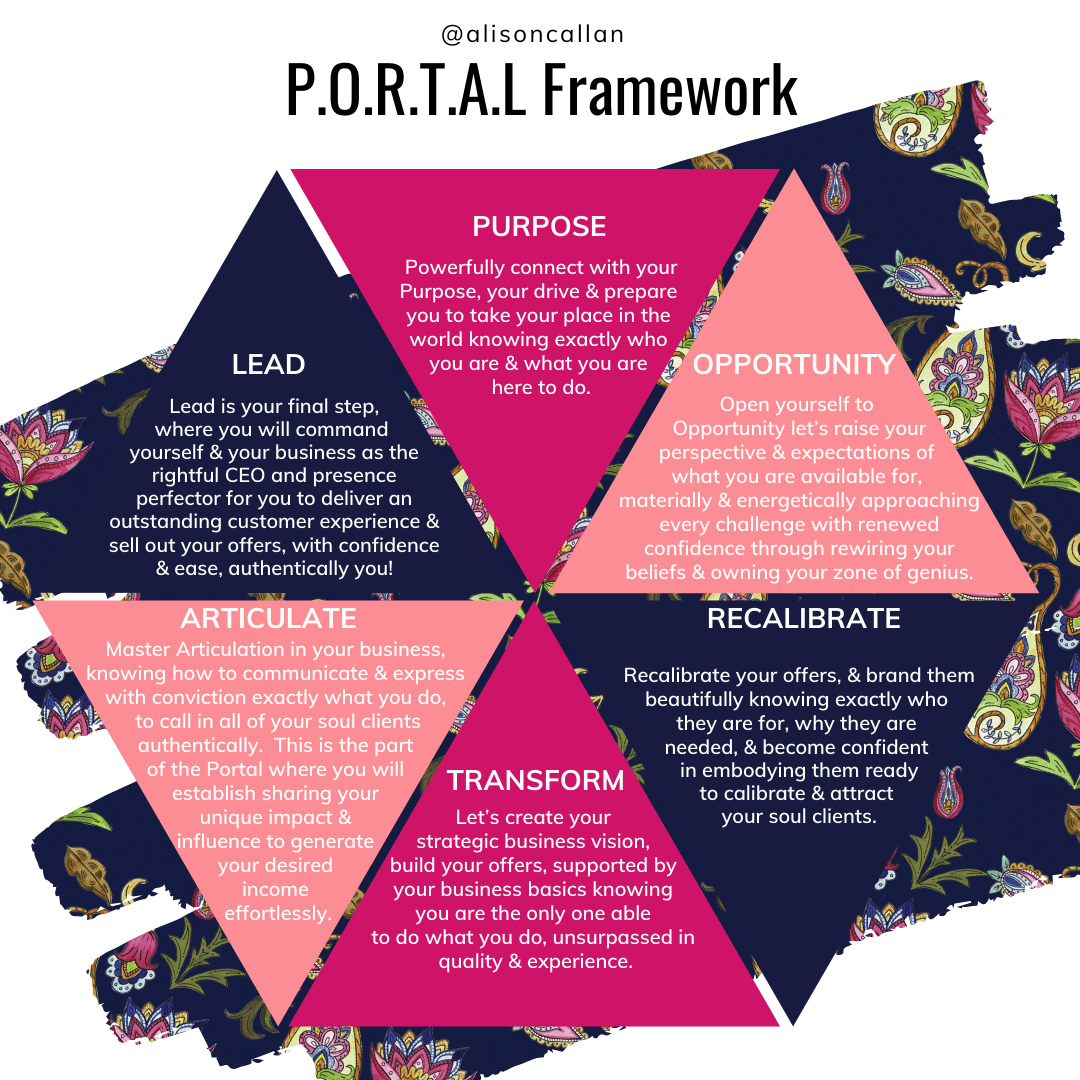 Through the P.O.R.T.A.L you will master….
Purpose
Create rock solid belief, vision and mission in your business by powerfully connecting with your Purpose creating clarity, reconnecting with your drive preparing you to take your place in the world knowing exactly who you are and what you are here to do, so that you become perfectly positioned in your industry..
Transform
Transform your strategic business vision, build your offers, supported by your business basics knowing you are the only one able to do what you do, unsurpassed in quality and experience.
Opportunity
Open yourself to Opportunity let's raise your perspective and expectations of what you are available for, materially and energetically approaching every challenge with renewed confidence through rewiring your beliefs and owning your zone of genius, so that you have the mindset mastery of an Evolved Entrepreneur. 
Articulate
Master Articulation in your business, knowing how to communicate and express with conviction exactly what you do, to call in all of your soul clients authentically. This is the part of the Portal where you will establish sharing your unique impact and influence to generate your desired income effortlessly.
Recalibrate
Recalibrate your offers, and brand them beautifully knowing exactly who they are for, why they are needed, and become confident in embodying them ready to calibrate and attract your soul clients.
Lead
Lead is your final step, where you will command yourself and your business as the rightful CEO and 'presence perfector' for you to deliver an outstanding customer experience and sell out your offers, with confidence and ease, authentically you!
Hi I'm Alison
A Multi International Award Winning Business Clarity & Success Coach, Mindfulness Consultant, Speaker and a two times #1 Best Selling Author as well as a Mum – and I know a little something about building, scaling and managing a conscious abundant business.
I empower Conscious and Aspiring Entrepreneurs to authentically and passionately Create Purposeful Businesses they love and deserve with Clarity, Confidence and Ease. We have infinite potential, we are creative, resourceful and whole. This is the time to believe in ourselves and command a reality we choose.
I have learnt this from my experiences, as I found myself lost multiple times throughout my life. And each time I noticed I was feeling lost, searching, loosing my confidence, it was because I had lost my sense of self. I was disconnected from the person I was becoming, without a clear vision of who she was and why I wanted to be her. I was misaligned in my actions, dreams and potential as a result, which made me undervalue my abilities, believe I was unworthy and shattered my confidence. To raise my vibration and step into myself again I needed to re-evaluate my belief system, work on my mindset and forgive myself for forgetting about me!  
I see this time and time again with Conscious and Empathic Entrepreneurs, and I am now Consciously Creating a community of supportive women who rise up and prioritise themselves because they know they can be of more Value, of more service. By embracing joy for themselves they create it for others. This is my gift… and I would love for you to be a part of this!  
Within our Business Accelerator Circle I maintain a safe, impartial and confidential space for you to speak your mind, with confidence and ease. This is a judgement free zone, where I listen and pose questions to challenge you, to support you to move forwards, towards your chosen destination. Building and Scaling your Business Authentically and Practically at your pace. And we enjoy the journey. I will encourage you to focus on your potential, not just on your past performance and we will celebrate your successes along the way! Trust me, there will be many!  
I want the next 12 weeks to be different for you – no more settling for the same, the comfortable, or uncomfortable. There is so much more that awaits.  
Get in touch and I know you will see, what I can see within you – Potential, Vibrancy, Light, Confidence and Magic!  
With immense gratitude and warmth,
Alison  xoxo
This program is for you, if you are: 
Wanting to Contribute More in the World
You want to make your mark on the world, to help others who might have to one day walk a similar path to you. You have what it takes to make a difference, you just need to learn how to express it, control it and unleash it for the greater good.
Struggling to Find your Identity in Business
You've seen so many others having Success in branding and knowing who they are in their Business and you want to do the same but nothing quite feels right, and this has left you feeling exposed, inauthentic and confused
Ready to Thrive
You want to Thrive mentally, emotionally, physically and soulfully. Waking up from the mundane, must do's and committed to enhancing your intuitive gifts and your highest state of self awareness, to develop your Business your way. 
Looking for Community and Support
You've tried this alone, now it's time to try it will supporters who are on a similar trajectory. A circle of empowerment and collaborators, who can understand the struggles and challenges and keep you consistent while lifting you up to be the very best person you can be – if you let them…
Searching for the Secrets to Success
Developing your atunement to Success in the world can be confronting. Creating your unique pathway will put you on your highest, most productive and focused frequency everyday. And you know that accountability and support will get you there, to remind you of your Mission and Purpose.
Ready to Focus on YOU
Getting clear on what your values are, where your life is headed, what dreams you want to fulfil, and make some conscious decisions and choices about how to move forward in a direction that supports all your needs is vital. From here your Business will flourish because you are the driving force.
A 1:1 60 minute initial Co-Active Coaching Clarity session to plan out your personalised business program and needs inventory – Valued over $1500
Weekly Zoom Calls, where you get personalised dedicated time on your Business – Valued at over $5k
Lifetime access to online self study modules to support growing your Business, getting out there, being seen, and Scaling – Priceless!
Unlimited check ins for the duration of the Program – Priceless!
1:1 Social Media Audit and Review with my SM Manager – Valued over $250
Social Media Trainings with my SM Manager – Valued at over $750
Private Facebook group for support and daily interaction, Lifetime Access – Priceless!
Live Mastermind online sessions with experts in multiple fields – Valued at over $1997
Weekly Unique Accountability and support – Priceless!
A very special gift from me to support you during the 3 months in the program  – Value $150 
Although you cannot put a price on this program, the value you are accessing is over $8k! 
This is for the entrepreneur who is ready to:
Dissolve the Barriers to your Success
By facing your doubts, worries and fears head on. To blast past the self limiting beliefs that are holding you back from living a life you love and deserve.
Invest in yourself First and Foremost
To take action on what needs to be done, put in the time, energy, money and persistance it takes to make radical change and transformation.
Unleash your Authenticity
To stop settling for anything less than what lights up your soul. You crave confidence and knows you deserves more, can give more, do more and be more.
Feel Confident & Be Visible
To be connected, happy, healthy and standing tall, visibly confident in your own skin – owning it! Releasing all comparisons, judgement of self and others.
Strengthen your Intuition
Through embracing your unique gifts, through embedding healthy, intuitive, mindful habits, and embodying a little bit of magic!
Consciously Create, Contribute and Influence
To impact lives, to make a difference and consciously create from the heart, leaving a legacy of love and high vibes wherever you go, naturally.
Imagine what it would be like if you had a clear pathway to achieve success? One that felt natural and authentic…
What if you  learnt how to actively be in Business and be the CEO in all respects?
And what about visibility, what if that was easy now, because you could be you unapologetically?
Listen to what Tereza said about the Accelerator, and how much she loved it that she did the program 3 times!
Included but not limited to…
Systems and Automation
Your pick of the best free and low cost options to get you started on systemising and automating your Biz. This is a game changer, and has you looking professional.
Clients and Customers
Imperative to running a Successful Business, Knowing your ideal clients, getting connected to them and having them begging to work with you!
Business Basics
What is your Business if it's not structured, established and uniquely identified – we'll do all that, your way!
Your Presence
Where are you and your Business seen, why and how often. Let's get this part of your business aligned and consistent!
Creating Rituals
This is imperative to you Success Pathway, honest. And its simple, fast and totally effective – you'll be reaping Success on a daily basis!
How to Prepare yourself for Success
Weekly Coaching calls get you ready for Success, setting yourself and your Business up for understanding, receiving and identifying your pathway to Success!
Do you long for a life and Business that lights up your soul….?
For as long as I can remember I have always wanted to help people, from when I was playing in the playground as a kid, to walking down the street as a young adult and sensing the despair in the air.
I felt everything, and I assumed everyone else did. It left me in awe when people were able to put their need for helping people into certain jobs and roles that were skilled and practical like lawyers and doctors and teachers. Yet none of those career paths resonated with me. I felt there was something different I wanted to do, but couldn't put it into words then.
I found another career path in the meantime, one in Business and Management, improving systems and processes and eventually teams and culture. This is where I started to feel alive, Coaching people to excel in what they do, supporting people to step into their potential and reach for the stars. I was finally helping people in a way that felt profound for me, authentic and skilled.
It wasn't conventional, or at least how I'd been taught to see a job or career. But it was fulfilling, on a soul level. Something clicked and I knew I was on my path. So I created my dream Business, helping Empathic, Busy, Soulful and Purposeful Entrepreneurs make a difference in the world by embracing their unique gifts and helping those that need them.
I believe that we all have a purpose to fulfil, a gift and inner guidance system that when tapped into will navigate us towards our potential. It's up to us then if we act on it. But when we do, I can assure you, our Souls light up…….
Imagine when you wake in the morning you know it's going to be an epic day, full of passion, purpose and contribution. Where you feel complete, present, on point, successful, confident and centred. Where you have achieved that wonderful business-life integration, sustained a higher vibratory level, peace of mind and self awareness. Other peoples fear and judgement no longer impact you negatively, you see them as signs, challenges to grow and develop. You choose to surround yourself with like minded friends and peers and you attract that which you give. You have it all…
To live like this is possible, and it starts with investing in yourself. Transforming your Mindset, patterns of behaviour, understanding your belief systems, emotional intelligence, attuning yourself to the frequency of your making. To Consciously Create, through the Clarity of your Visions, Values and Purpose – a Life and Business that you Love and Deserve.
This is your time, to grab an opportunity to make a Conscious Choice to Accelerate.
Working with me and the other amazing souls in the program to support you in pursuing your dreams, rediscovering your sense of self, and stepping up into becoming the person you most desire to be is your first step – and I want to congratulate you. It takes strength of mind and courage to realise that everything starts with self, and to make a true and lasting change takes time, determination, strong intention and stillness.
We will be focusing on you and your Business during this program. You will be supported not only with your direction personally and professionally but with all the tools I have from experiencing an array of systems and online applications to scaling, automating and upgrading your expectations of how to Build a Successful Business, your way, authentically so that you shine. So that your Business stands out and you are seen by those you're here to serve and support naturally.
The journey you are making now, is the start of greatness, you will look back and see this as your emergence into living and embracing a full and vibrant Business with Clarity and Success.
Whatever has transpired for you to find me, I am so glad that you have. 
This is your beginning…. 
Listen to these Success Stories, because you may not believe the power you have to transform in 12 weeks, or even think it is possible. These Accelerator Alumni were all blown away with what was possible, and it could be your success story next!
One time Investment 
Pay in full now for 
$5,555.00*
 ✔︎ One time payment
✔︎ Lifetime Access
✔︎ On the go, accessible
 Monthly Investment Plan 
Now 4 instalments of
$1,400.00*
✔︎ 4 monthly instalments
✔︎ Lifetime Access
✔︎ On the go, accessible
The next program begins August 2021.
By joining now you get to start early by building momentum from your 1:1 with Alison, by accessing The Conscious Business Circle Bonus membership to keep you accountable and in flow.

Your success in 2021 begins now with this decision, so what do you say, are you in?
* GST applicable for Australian residents
I know that investing in yourself can be scary, and I know that because it was for me. By committing to this program you are standing up and saying that you are worth it, that you can do the work, that you will make time for yourself, that you value yourself, believe in yourself.
As a first step, this can feel S.C.A.R.Y….   But cast your vision forwards now to where you could be in 12 weeks if we were to work together.
Will you be grateful to have grabbed this opportunity, to have finally taken the reigns and made the changes that were due to come forth at one time or other anyway? Will you be the best version of yourself, smiling, happy and thankful to have taken the leap of faith? Because investing in yourself is never a risk, it is a right and a reward – because you are a sure thing!
Or, do you see yourself where you are now, exactly as life already is?   And what do you think is actually more scary from that perspective? Being where you currently are in another 12 weeks, or somewhere new, someone new – who Consciously Created a life you love and know you deserve?
This is what got me over the line when I chose to substantially invest in myself with my Coach, I made a commitment to make the very most of the experience and do the work. I now do not need to look back, it was worth it, it is worth it – I AM WORTH IT!
It is time to believe in your worth and Accelerate!
There is also a very special Accelerator MasterCircle Program available to those who complete the Conscious Creation Business Accelerator. It involves Premium 1:1 Coaching, Incredibly Successful Experts in their field and a whole heap of advancements in practises, and opportunities to grow your business even more. And to make this even more exclusive, it's by invitation only… Curious? Well, get on into the Accelerator to find out more…
 I know you are ready for this, you can feel it too – so let's dive in.
Once you sign up you will be…
contacted with your engagement pack,

a welcome from me and to get you scheduled in for your 1:1 to get you started in consciously creating your conscious business.

added to the facebook group, and

added to the members area for you to explore.

 
The sooner you are in, the sooner you get access to the Magic, and trust me, once you've had your personal session you will be activated with strategy, purpose and the direction needed to have you advancing long before your group sessions start.
'Alison came into my life at exactly the right time. I am not sure how to fully describe the connection we've built during my time in the Accelerator, but I am going to try.
The biggest difference between Alison and most other business coaches is that with Alison, the energetic exchange doesn't stop once your weekly session is over. Alison goes above and beyond for her clients. Once you work with her, you become family.
I was in such a weird place in my business when I began my journey with Alison. Things seemed really hazy and I wasn't at all sure in which direction I was heading in with my business. Throughout the 12 weeks I spent in the Accelerator, I was not only able to gain clarity on my next business moves, but also feel wholly and completely supported – not only in my business, but EVERY. SINGLE. AREA. of my life.
For those 12 magical weeks, Alison was the first person I reached out to whenever something big and important happened in my life, including heartbreak, losses and all the business wins we were able to co-create together.
If you have any reservations around hiring a coach or working with Alison, do it. You will not regret it. The 12 weeks I spent along Alison's side have felt like a lifetime, but they also passed way too fast. She's become like a second (business) mother to me and I will forever be grateful that I decided to take the leap, trust and build such a beautiful connection with someone – alongside building my business!'
One time Investment 
Pay in full now for 
$5,555.00*
 ✔︎ One time payment
✔︎ Lifetime Access
✔︎ On the go, accessible
 Monthly Investment Plan 
Now 4 instalments of
$1,400.00*
✔︎ 4 monthly instalments
✔︎ Lifetime Access
✔︎ On the go, accessible
As I said, I know investing in yourself can be scary, and it feels like you are putting your faith in the Universe and me to support you. So my promise to you is that I will.
Imagine being supported by a bunch of best friends who 'get it' this drive you have this need and desire to help people and use your gifts. We get it. Those in the Conscious Business Accelerator understand, we've walked or are walking a journey but we decided to do so with support, and I can tell you it is so much easier.
But I also understand that for some people, investing during these 'uncertain times' can be scary … honestly I get it!
That is why I've put together my 100% success guarantee!
I am so certain that through the training, coaching and mentorship you will have everything you need to get your Business booming and go to the next level that I guarantee if you go through the 12 weeks and are not satisfied I will work with you until you do!
I am Consciously Creating the ideal space for you to get Support, scale and build your business, growth & service, and inviting you to join me – are you ready to have faith in yourself and do this?
Much love and gratitude,
Alison xoxo
P.S – If you still feel unsure, how about you schedule a Clarity call, lets get to know one another and you can make a decision then, book in here.
This is your opportunity, time to grab it…