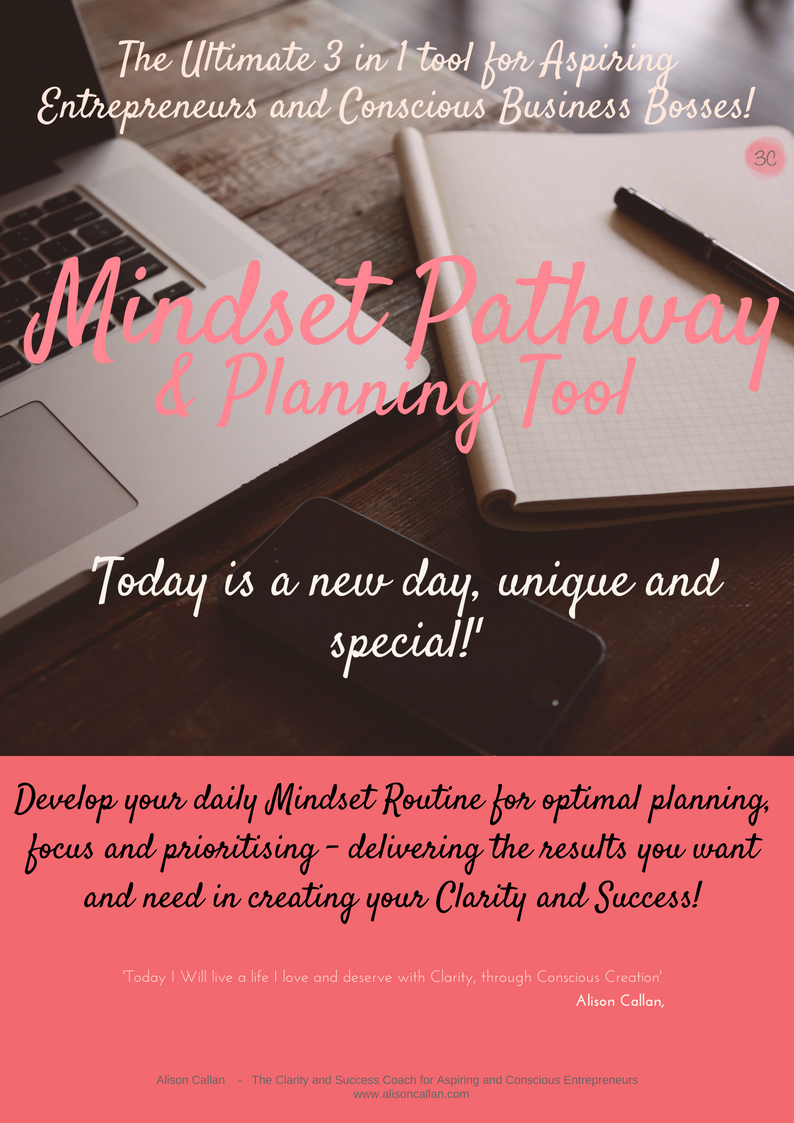 The #1 Strategy You Must Put in to Place TODAY to Grow Yourself and your Business!
Putting you on track to succeed in delivering on your:
Big picture thinking,

Self-Mastery and awareness and,

gaining Clarity on who you are, and choosing how you show up in the world!
DOWNLOAD THE ULTIMATE 3 in 1 MINDSET PATHWAY AND PLANNING TOOL TO DISCOVER:
The EXACT mindful mindset routine to unleash your potential, confidence, self-awareness and develop your purpose led business

Gain self-mastery and learn to identify your emotional intelligence, intuition and maximise your potential

Delve into what is really important for you to achieve in your day and know how to commit to getting it done!

Take control of how you choose to show up everyday, gain focus and perspective

Say goodbye to procrastination, fear of the unknown and that lurking feeling that something's missing.
How do you become the best version of yourself, fulfil your mission, unleash your potential and build a purposeful business?
YOU take action, to make a change, embrace every moment as a way to improve on the previous one – with Intention, Confidence, Clarity and Ease!
Download the Ultimate 3 in 1 Mindset Pathway and Planning Tool now – this has been designed to incorporate the 3 biggest and most common challenges aspiring entrepreneurs face:
Beginning the day in a funk,

Not knowing how to make the biggest impact on their Daily List of items to achieve, and

Not knowing, Clearly, their dreams and aspirations.
Be the person who takes on this opportunity to make a change, to uncover your own answers to those challenges – embrace your Mindset Pathway and Plan your way to ultimate Clarity, through Conscious Creation NOW!
We 100% respect and protect your privacy, and we promise never to share any of your information. 
Real People – Talking about Real Results!
When I approached Alison, I was overwhelmed, frustrated, and exhausted. I had a great reputation as a hypnotherapist amongst existing clients and friends, but no idea how to collate my desire for business-growth into time-focussed action steps. Adding to this was a seeming inability to respect my own professional boundaries, plus a looming public speaking event which had placed me directly in the path of one of my biggest fears. Alison's approach immediately blew me away. Before meeting we were already focussing on my needs. Upon meeting, she identified where my attention would wander and would pull it back mindfully. It was like being reminded why I wanted to be a hypnotherapist in the first place. It was a relief to have permission to focus on my needs for a change. The clarity and focus came back fast. From the discussions came the action steps. This was what I had wanted and Alison delivered fearlessly yet with heart. I was shaky at first and terrified of the public speaking event, but I took the steps recommended. Momentum and clarity grew and Alison's support never wavered. By the time I reached the speaking event I was ready. The fear didn't go away but it was no longer crippling. I spoke on a very esoteric subject, and can't begin to tell you how amazing it was to receive not only compliments but follow-up enquiries to my practise days later. As I write this, business is growing. I take daily action steps and am booking new clients. I have identified the exact market I wish to serve and have tweaked my practise accordingly. I respect my boundaries and time. I have focus, clarity, drive, and passion. I'm actively seeking speaking events. I have a very clear action plan and structured goals. I have zero doubt these goals will be met. In short, Alison Callan has completely changed the scope and direction of not only my Holistic Hypnotherapy practise but my approach to life. I cannot recommend Alison highly enough. If you're sitting on the fence, I urge you to call her. I have no hesitation in putting my professional name to such a bold statement. It's possible I wouldn't be operating under it without her.
Before I started working with Alison I was struggling to be able to actively decide and acknowledge my souls true values in order to find my true love and light within my own life. I was struggling to find my spirits inner peace, because my mind was running a trillion miles(kilometers) an hour and it was hard to figure out what direction I needed to take to start living my life authentically with my true heart.

During my time working with Alison I had my breakthrough, I was able to really discover my own personal values, figure out my dream company 'Love Out Loud' which I am launching, I learnt how to heal myself in a healthy way when negative emotions/moods come through me. I feel as I was looking to get insight on my business when I started working with Alison but I ended up getting insights and breakthroughs on how to live a more fulfilling and sustainable life style as well!

Since I began my Coaching Journey with Alison I have been able to start my dream company 'Love Out Loud' to eventually work for myself, anywhere in the world with the flexibility that I want at the age of 23!  I now feel more confident, have raised my positivity to send out bigger ripples of love into the world and I have learned to love myself at each present moment.
I first saw Alison six months ago regarding my business stresses and work/life balance, or so I thought. I was stressed, anxious and generally operating in survival mode. What has transpired since that first meeting has been nothing short of a miracle.

Alison has carefully and skilfully guided me through thought provoking sessions challenging my entrenched beliefs and ideals on happiness and the future. She has provided clarity to such a level that it has absolutely transformed my life.

I now have a zest for life that I never knew existed. I awaken every day with a happiness, drive and energy that I'd never had before and I am excited about my future. I will always be grateful to have had the opportunity to work with Alison and cannot recommend her more highly. I believe every person could do with an Alison in their life.
My introduction to Alison came via a close friend a month and a half ago. I actually can't believe the change that has occurred in my life since then, much under the guidance of Alison. Alison has been instrumental in focusing my attention to what really matters in life, both professionally and personally. She has held the mirror to some of my behaviours and perceptions that has allowed me to accept change in my life. My journey started when I wanted to explore the options of transitioning out of "the day job", to something that I have immense respect for, the science of yoga. Through Alison's guidance I have shifted yoga being a personal practice to the possibility of becoming my vocation in my life. I am well on the path to clearly defining where I want to be in life and how I want to live it. Through Alison's guidance and exacting focus I now teach yoga (asana practice), have undertaken additional studies, and have shifted my perspective of life. Admittedly, you have to be ready for change. Alison is a very dynamic, consummate professional who will ask the hard questions, and make you search for the results- which, from my perspective is where lasting transformation takes place. I would highly recommend Alison as a professional/ life coach. She's exacting and challenges your thinking and approach to your career/ life. If you are are looking for change, and guidance to make that change, get in touch with Alison.'
If you're ready for results like these subscribe NOW and begin your transformation through using the 3 in 1 Mindset and Planning tool, specifically for Aspiring Entrepreneurs.
As well as your information being 100% safe with us, we commit to only sending quality content – this is a no spam zone!
Helping YOU mindfully align with your mission, and create conscious business with purpose, confidence and ease. Empowering YOU to Create a business and life you love and deserve with Clarity through Conscious Creation.
Hi, I'm Alison, and I am so glad that you have found your way to downloading a copy of my Mindset Pathway and Planning Tool. It's exactly the gift that you need right now.
And now to tell you a little bit about me…. I am originally from the UK and my professional background has been in Public Sector Business Management and Leadership, spanning more than 10 years, a role I fell into and truly enjoyed throughout its many challenges! Continuing with my personal development during this time, because I love it and am a committed life long learner, I was introduced to Coaching. I found this method of working complimented my career in management and it totally resonated with me both professionally and personally, and from then on I have incorporated the techniques I learnt into all of my subsequent roles. Which has created much Success!
I moved to New Zealand in 2011 and continued my career as a Business Manager focusing on Continuous Improvements and Governance. While on parental leave with my second child I decided to follow my purpose by furthering my studies in Coaching. Through discovering the fabulous Mindfulness Coaching School, I began my training towards a Mindfulness and Wellness Coaching Certification (MWCC) having achieved my International Coaching Federation (ICF) Qualification as an Associate Certified Coach (ACC).
So I followed my passion and Consciously Created my company! A way for me to put all my wonderful life lessons and experiences, good and challenging, into positive use for others through Coaching – bringing you 'Clarity through Conscious Creation'!
I coach from the perspective of positivity and empowerment, I truly believe we are all 'Creative, Resourceful and Whole'. And my superpower is to help you mindfully align with your mission, and create conscious business with purpose, confidence and ease. Behind the scenes, to me, motherhood is what has brought me here, my 2 little boys and husband, thank you – you are my Constant; you Challenge me every day and keep me Centered. I feel privileged and truly blessed to be fulfilling my purpose through Coaching, working with so many fabulous clients, bringing them Clarity and Success. It is an incredible experience to behold, supporting people transform themselves and their lives from one they felt was lacking into something remarkable, enjoyable and purposeful. There is no greater joy to behold than someone realising their dreams and making them happen.